FUERZAS UNIDAS
FULL CAUCUS MEMBERSHIP MEETING
Starting February, we will meet every THIRD THURSDAY of the month
Our Next Membership Meeting will be on
February 16th at 6:00pm via Zoom
By Vicky Estrada-Bustillo


Your leadership team and communications committee continue to build our organizational capacity, enhance our communication tools and reach out to community members and partners throughout the state.


In this newsletter, you will note first off that we have changed our leadership and membership meeting day from Monday to Thursday to facilitate participation by many of you that identified conflicting meetings, commitments … on Mondays. We look forward to seeing you all at our Third Thursday of each month Membership meeting.


In this issue you will read about our strategic planning retreat to develop our organizational infrastructure and outline caucus activity focus for the next two years. Additionally, the introduction of the caucus to the State Legislators and connection with New Mexico Youth in Government are examples of how we are moving forward to establish relationships that will enable us to better serve our Hispano communities, both rural and urban, across New Mexico.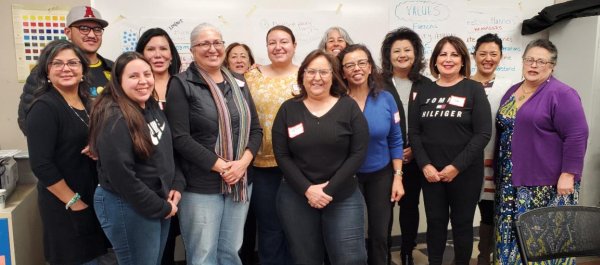 Fuerzas Unidas Caucus Holds First
Strategic Planning Retreat
By Vicky Estrada-Bustillo


The Leadership Team, made of the State Officers and Regional Representatives, along with Communications Committee members and Advisory Board members, met on Saturday January 28th to develop a two year action plan based on the mission, values, goals and objectives previously established, along with the survey results collected during the summer of 2022.


Leadership members came from all around the state to participate traveling from Rio Arriba, San Miguel, Luna, ­­Do­na­ Ana, Torrance, and Bernalillo Counties. With the guidance from Facilitators Rosemary Romero of Santa Fe, and Marisol Enriquez and Julie Rochman of Albuquerque, the team developed a draft Plan of Action for 2023-2025.


Further refinement will occur in February, 2023. We then look forward to sharing our plan with the membership at a future membership meeting.
We Need You!
We are looking for members to fill vacant leadership roles for Fuerzas Unidas.
If you live in the Northern or Southern Metro areas and are interested in either of these representative positions, please contact Melissa Ontiveros (Metro Vice-Chair). If you live in the Central East Rural Area and are interested in filling this representative position, please contact Ben Salazar (Rural Vice-Chair).
Fuerzas Unidas Caucus Introduced to
New Mexico Democratic Legislators
On Monday, February 6, chair Vicky Estrada-Bustillo and treasurer Felice Garcia visited the Round House to personally introduce the Fuerzas Unidas Caucus to every Democratic legislator. We wanted to let our democratic representatives know the Fuerzas Unidas Caucus is working hard to engage, educate and activate Hispano democrats across the state and to meet as many representatives in person as possible.


We drove to Santa Fe armed with gift bags of dark chocolate, an introductory card and business card for each democratic legislator along with a spreadsheet showing how many Hispanic democrats are registered by county across the state. Even their hardworking staff were very interested in this important data.


Representative Kathleen Cates formally introduced the Caucus on the House Floor where the Governor, Speaker of the House Javier Martinez and a majority of the House members were in session. Senators Harold Pope Jr., Linda Lopez, Jerry Ortiz y Pino, Liz Stefanics, Peter Wirth all took the time to speak with us in person along with House Representatives Janelle Anyanonu, Susan Herrera, Raymundo Lara, Charlotte Little and Reena Szczepanski. They shared some of the legislation they are working on along with concerns they have about their communities.


Several of them had not heard of the Caucus but did know our regional representatives from their districts. Everyone we spoke with was very interested in partnering with Fuerzas Unidas to amplify Hispano priorities and promote democratic voting throughout the Latino community across the state.


Developing good working relationships with our Democratic legislators will benefit all our communities and prepare for future legislative engagement by the caucus. It was a long but rewarding day.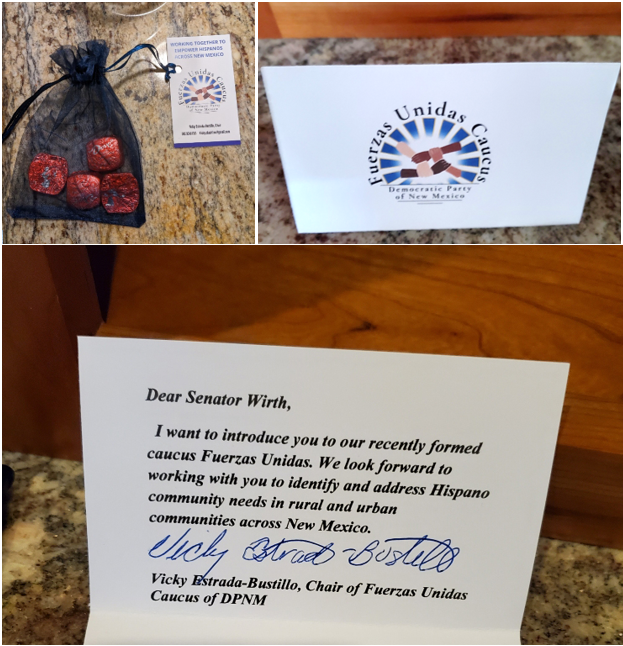 La Unión Hace la Fuerza
of the Democratic Party of New Mexico