FUERZAS UNIDAS
FULL CAUCUS MEMBERSHIP MEETING
As of February, we started meeting every THIRD THURSDAY of the month
Our Next Membership Meeting will be on:
March 16th at 6:00pm via Zoom
At our March Meeting, we will have 2 presentations on
Youth in Leadership and Youth In Government
By Vicky Estrada-Bustillo
We all recognize the importance of engaging and involving young people in our democracy (by which I mean anyone UNDER 40). For the Democratic Party and Fuerzas Unidas, this means we need to take steps NOW to identify, prepare and support young people to take on leadership roles in our party and as elected officials.
This issue of our newsletter highlights a few programs offered in New Mexico that focus on youth leadership and youth in government. As you read about them, take a moment to think about and IDENTIFY those young people in your community. Share this information with them and encourage them to apply and get involved. At our March 16
th
meeting, we will have presenters from the National Hispanic Institute, and the UNM College Democrats share information about their programs. Please join us to hear these outstanding presenters.
We continue to revise and update our 2-Year Strategic Action Plan. We look forward to sharing with you and getting your input in the April Membership meeting. Stay tuned.
Lastly, as directed by our By-Laws, we will have elections in May for the following positions: Vice-Chair Metro, Secretary, and our 6 Rural Representatives. The term for all positions is two years. We will provide more information on the nomination process and election timeline in the next few weeks. Look for more information on our website (
www.fuerzasunidasnm.com
) and in upcoming emails.
We Need You!
We are looking for members to fill vacant leadership roles for
Fuerzas Unidas.
If you live in the Northern, Central or Southern Metro areas
and are interested in any of these representative positions, please contact
Melissa Ontiveros (Metro Vice-Chair) at mallysaport@gmailcom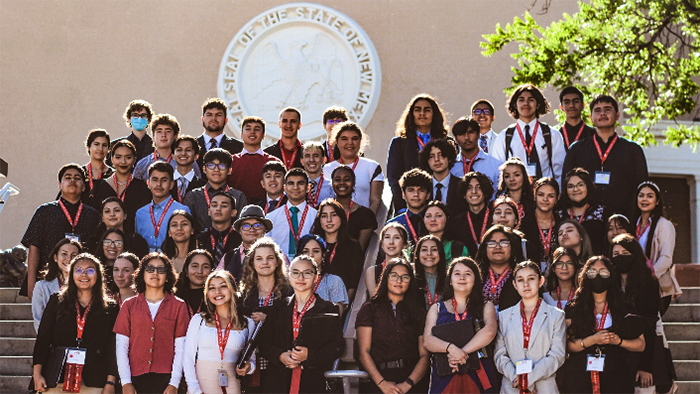 UNM and National Hispanic Institute to hold
2023 Youth Leadership Development Experience
The University of New Mexico (UNM) is partnering with the National Hispanic Institute (NHI) to host the 2023 Dionisio "Dennis" Chavez New Mexico Lorenzo de Zavala (LDZ) Youth Legislative Session for high school students statewide.
This event will host 150 top students in a week-long leadership experience on the UNM main campus June 11-18, 2023, and highlight the legacy of the late Dionisio "Dennis" Chavez, the first Hispanic elected to a full term in the Senate and first senator born in New Mexico.
The National Hispanic Institute's LDZ experience presents an eight-day creative learning program for 10th and 11th-grade college-bound students. It engages participants in active learning by having them play key leadership roles using a community engagement and legislative focus.
New Mexico high school sophomores and juniors with a 3.2-grade point average or higher are encouraged to apply. Selected students will be named Dennis Chavez Scholars and participate at no charge other than transportation to and from UNM in Albuquerque and a $25 application processing fee.
Students are encouraged to promptly submit their
online application
to the National Hispanic Institute Dionisio "Dennis" Chavez New Mexico LDZ. Admission begins Oct. 7, 2022, and concludes once the program has reached capacity.
"The LDZ experience prompts a personal transformation whereby students feel competent, in control of their life direction, valued in the eyes of others, and engaged in adding equity and worth to their community"
-Gloria de Leon
The University of New Mexico College Democrats
By Andrew J. Schumann, President of UNM College Democrats
"During the run-up to the 2022 midterms, I realized that the progressive voice on campus had splintered into a dozen or more issue-specific groups, which all competed for attention. Knowing that sectarianism would ultimately lead to electoral inaction, I re-chartered UNM College Democrats to unite these disparate voices in a unified push for progressive change. My ultimate goal was to bridge the divide between the inherent political passion within young people and the electoral engagement necessary to create meaningful change.
What began as a small group of friends debating politics quickly blossomed into an organization of over 100 students dedicated to electoral engagement and direct action. We utilized our membership as a pool of volunteers during the midterms, hosting phone banking sessions and recruiting door-to-door canvassers. We also garnered media attention, with KOB4 interviewing me during a segment on increasing youth voter turnout, and hosted Governor Michelle Lujan Grisham during her visit to campus on election day. Events like this proved that our leaders were finally acknowledging the voices of college students. Since then, we've brought guest speakers like Lan Sena and Augustine Montoya to campus, aiming to educate students on healthcare, climate change, and education.
Recently, UNM Dems hosted our first annual legislative summit at the Roundhouse, wherein many of our members had the opportunity to stay in Santa Fe and shadow their state representative or senator for a few days. Not only did this provide an outlet for students to observe the legislative process directly, from committee hearings to floor debates, but many students had the chance to work on vital pieces of legislation and make invaluable professional connections. We hope to continue the critical work of ensuring that college students are politically educated, have access to elected officials, and maintain the will to take political action."
UNM's

Mayor's Select Internship Program

offers students the opportunity to gain valuable experience in Albuquerque city management and the policy process and to gain three credit hours while doing so. Up to five interns will be selected each semester to participate in the program. Each 16-week program will place interns in specific departments in four four-week rotations. All interns will have one rotation in the Mayor's Office (communications, government affairs, constituent service) plus three additional City departments. Interns will work on various projects and tasks, including conducting research, attending meetings, managing incoming inquiries, data analysis, drafting briefings, staffing events, outreach, and special projects. Contact Dr. Michael Rocca (

msrocca@unm.edu

) for more information.
UNM's

New Mexico State Legislative Internship

places interns in a unique position to observe, first-hand, the operation of our legislature. Participants in the program will be assigned to members of the New Mexico State Legislature for one week during the legislative session. The intern will report at 9:00 a.m. on Monday of their given week and will work full-time and reside in Santa Fe until released at the close of the week's legislative session. Interns receive a stipend of $500 to help cover their expenses. Preparation for the internship includes a full-day of orientation in Santa Fe. Interns may register for one hour of academic credit and are required to submit daily journals and a summary paper to the internship coordinator. Contact Dr. Michael Rocca (

msrocca@unm.edu

) for more information.
UNM's

Fred Harris Congressional Internship

enables up to five selected interns to travel to Washington, DC, and work in NM congressional delegation member offices for a semester. The program's objective is to provide academically outstanding undergraduate students interested in public policy the opportunity to participate in public service by contributing to the policy-making process. The internship experience helps students understand the challenges and rewards of public life and gives them opportunities to develop their professional skills. Contact Dr. Ellen Grigsby (

egrigsby@unm.edu

) for more information.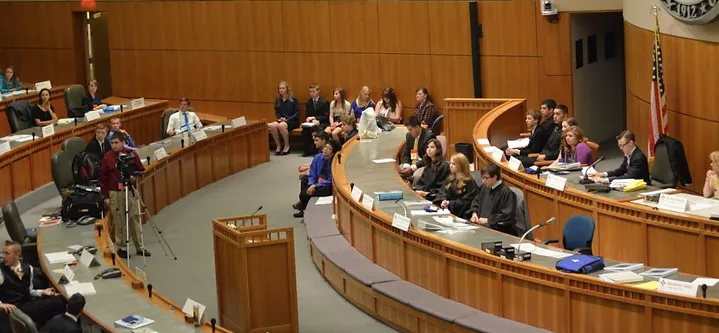 New Mexico Youth And Government, YMCA
By Hannah Wood, NM Youth & Government State Director
New Mexico Youth & Government (Y&G) is a non-partisan, student-led civic education experience that focuses on educating high school students about state government. Youth & Government offers legislative, judicial, and executive branches of government and a media program. The annual program culminates in an April three-day conference at the State Capitol. Y&G not only teaches students about government but gives them an avenue to interact with political processes and positions of leadership. The Y&G program counters the disengagement from political knowledge and action that many American citizens experience by providing education and exposure that breaks down barriers to the political process.
Unlike many other civic programs that tend to be competition-based, Youth & Government focuses on creating a platform for civil debate on complex problems and building collaboration between students of diverse backgrounds to seek solutions to challenges we see in our communities. Youth & Government is a program of the YMCA of Central New Mexico and has been present in New Mexico since 1960.
Registration for Youth & Government is currently open for the 2023 state conference. At present, the program is calling for support and outreach on several fronts:
Outreach to high school teachers, high school students, or both who would be interested in participating

Sponsorship for program funding need of $35,000 for the state conference

Outreach to individuals interested in serving on an Advisory Council committee to support future program outreach, education, and fundraising needs
For additional information, contact Hannah Wood,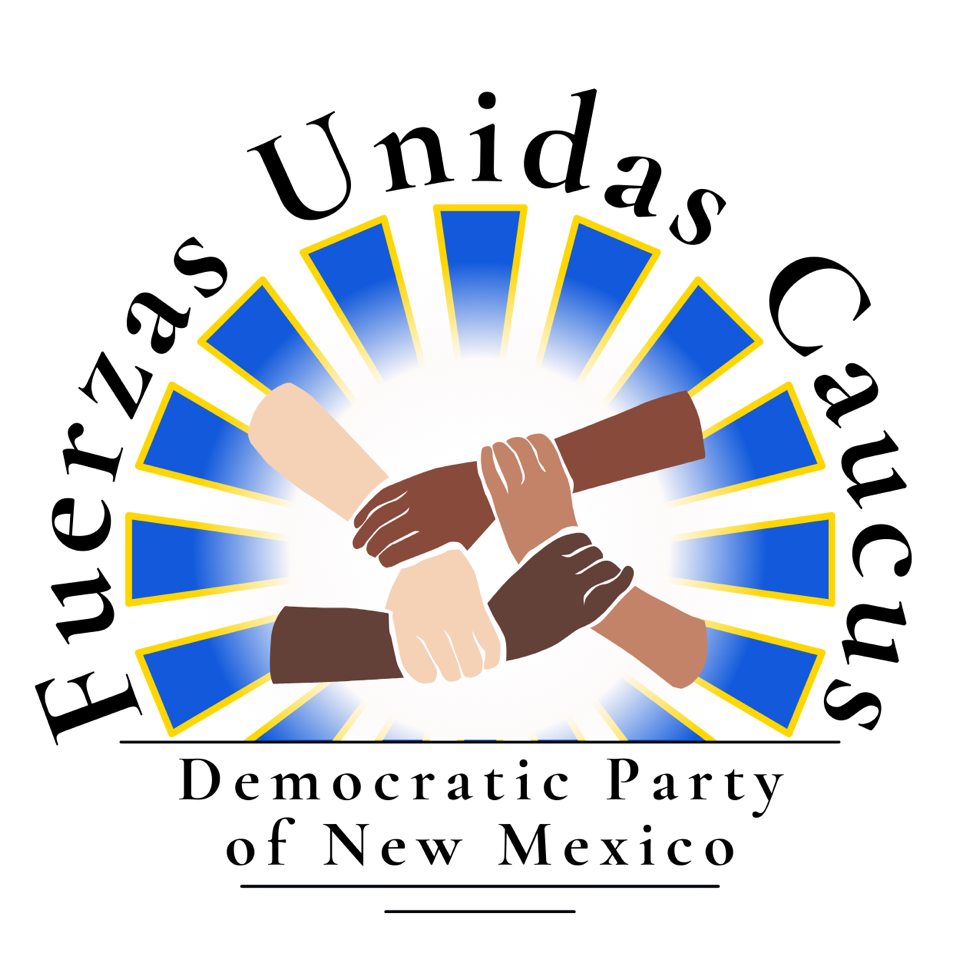 La Unión Hace la Fuerza
of the Democratic Party of New Mexico