FUERZAS UNIDAS FULL CAUCUS MEMBERSHIP MEETING
Our Next Membership Meeting will be:

June 15th at 6:00pm

via Zoom
Guest Speakers:
Isaac Dakota Casados, DPNM Secretary
Carlos Abeyta, MBA, Dept Administrator, Associate Director of Diversity, Equity and Inclusion, Neurosurgery, UNM School of Medicine
PLEASE WELCOME OUR NEWEST MEMBERS!
Glenn Josef Melton
Stephanie L DuBois
Byron K Powdrell
Flor Yanira Gurrola Valenzuela
Terri Ann Christiansen
Ilean R Galloway
Carolyn Garcia Mack
By Vicky Estrada-Bustillo
We successfully completed our second elections for the caucus. I am honored and proud to be working with a group of such dedicated and committed individuals that make up our leadership team. In addition to our re-elected Rural Representatives and State Officers (Loyda Martinez-Northwest Rural Rep., Christina Trejo-Montes - Southwest Rural Rep., State Secretary Christina Serna - Secretary, and Melissa Ontiveros-Vice-Chair Metro), I am happy to announce the appointments of Frances Gonzales to the Vice-Chair Rural position and Augustine Montoya as Central West Rural Representative. Congratulations to you all! A priority in our Strategic Action Plan is to fill the remaining leadership positions. Our entire leadership team is looking forward to getting out to Hispanic communities throughout the state.
This month we are recognizing our LGBYQIA+ Community. Minority LQBTQIA+ individuals' encounter additional race-related hardship. It is important to acknowledge the struggles this community continues to face in our society, honor those that proudly share their stories, and ENSURE that we provide a safe and open community for these marginalized individuals. Thanks to our contributors for sharing their thoughts and suggestions for how to make this happen.
Bernalillo County CD2 SCC Slots Need Filling
There are 4 vacant SCC positions in CD2.
Hispanics are Under-Represented in this Area. So, Please share with Democrat Hispanics you know that would be committed SCC Members.
See the attached call for SCC candidates, and the link to declare below.
*See email for meeting place if marching with Fuerzas Unidas*
Drag Queen Downtown Pride
Little Toad Creek Brewery & Distillery


Parade & Pride on the Plaza
Share Your Skills and Talents by Joining one of our 6 Committees
-Process/Procedures/By--Laws
Feel free to reach out to our chair, Vicky Estrada-Bustillo at
vicky.chairfzuc@gmail.com
or Tel/text:505-934-4713, if you have any questions.
See below for Armijo Family STEM Scholarship Fundraiser:
In Recognition of Pride Month:
This Pride Month, as an openly gay Hispanic man and proud Democrat, there is so much to reflect on. The LGBTQ+ Hispanic and BIPOC (Black, Indigenous, and People of Color) community in New Mexico faces a unique set of challenges that result from the intersectionality of their sexual orientation, gender identity, and racial or ethnic background. They often experience higher rates of discrimination, violence, and socioeconomic disparities than their white counterparts. LGBTQ+ Hispanics and BIPOC individuals face systemic barriers such as limited access to quality healthcare, educational inequalities, and racial profiling, contributing to higher poverty rates, unemployment, and health disparities within these communities. Additionally, they may encounter cultural and familial pressures that add further complexity to their experiences, making it crucial for local Democrat organizations such as the DPNM Fuerzas Unidas Caucus to help address these intersecting challenges.

Democrats can play a vital role in addressing and supporting efforts to end or reduce these challenges for the LGBTQ+ Hispanic and BIPOC communities. Firstly, they can work by promoting policies that combat discrimination and equal opportunities for all individuals, regardless of race, ethnicity, sexual orientation, or gender identity. This includes advocating for laws that protect against discrimination in employment, housing, and public accommodations and promoting diversity and inclusion within government agencies and institutions. Moreover, Democrats can support initiatives that increase access to quality healthcare and social services for LGBTQ+ Hispanic and BIPOC individuals. This can involve partnering with other community organizations to promote culturally competent healthcare services, advocating for affordable healthcare options, and investing in programs that address the specific needs of the LGBTQ+ community as a whole. By actively engaging with and listening to the concerns of the LGBTQ+ Hispanic and BIPOC communities, Democrats can play a crucial role in dismantling systemic barriers and promoting equity, justice, and inclusivity for all.
Manny Crespin, DPNM Vice-Chair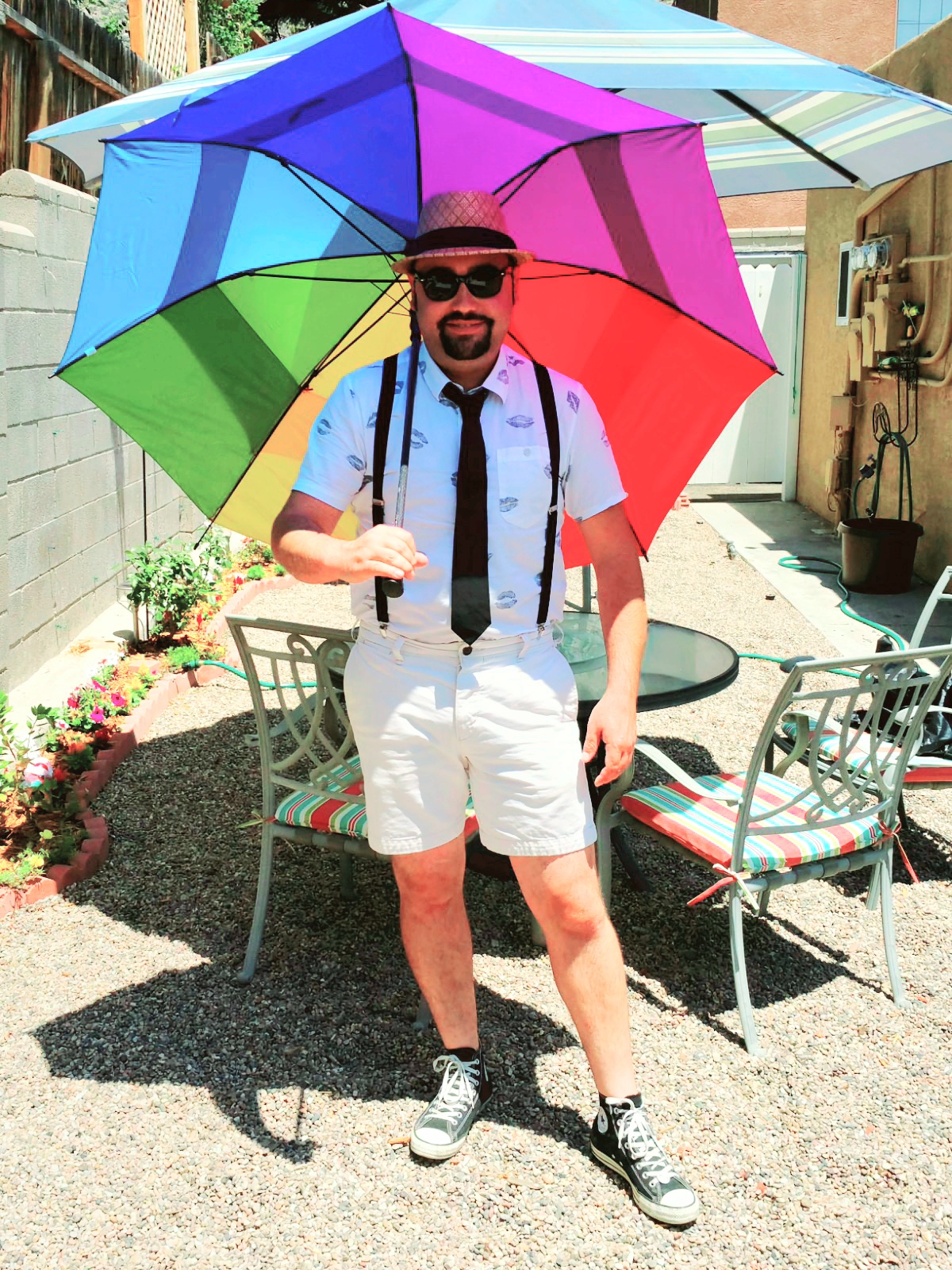 A Note from our DPNM Secretary
As we celebrate Pride Month, we must remember that some of our community's most vulnerable individuals will be unable to celebrate because they are crippled with stigma or a lack of support. As Hispanic / Latino community members, we know what it's like to be marginalized or overlooked.
Today many of our minority LGBTQIA+ youth face one of the highest suicide rates in this country. They also face bullying and persecution from bigoted laws being passed in various states throughout the country.
As fellow caucus members, we are tasked with providing a safe and open community for these marginalized individuals— providing a supportive environment for them to thrive. I encourage you to support the countless advocacy groups fighting for LTBTQIA+ rights; speak out against hateful and demeaning legislation; use your social media platforms to raise awareness of LGBTQIA+ causes and issues, and let an LGBTQIA+ member know you're an ally.
Together, we can fight injustice wherever possible and build a stronger community that works collectively.
Isaac Dakota Casados, Secretary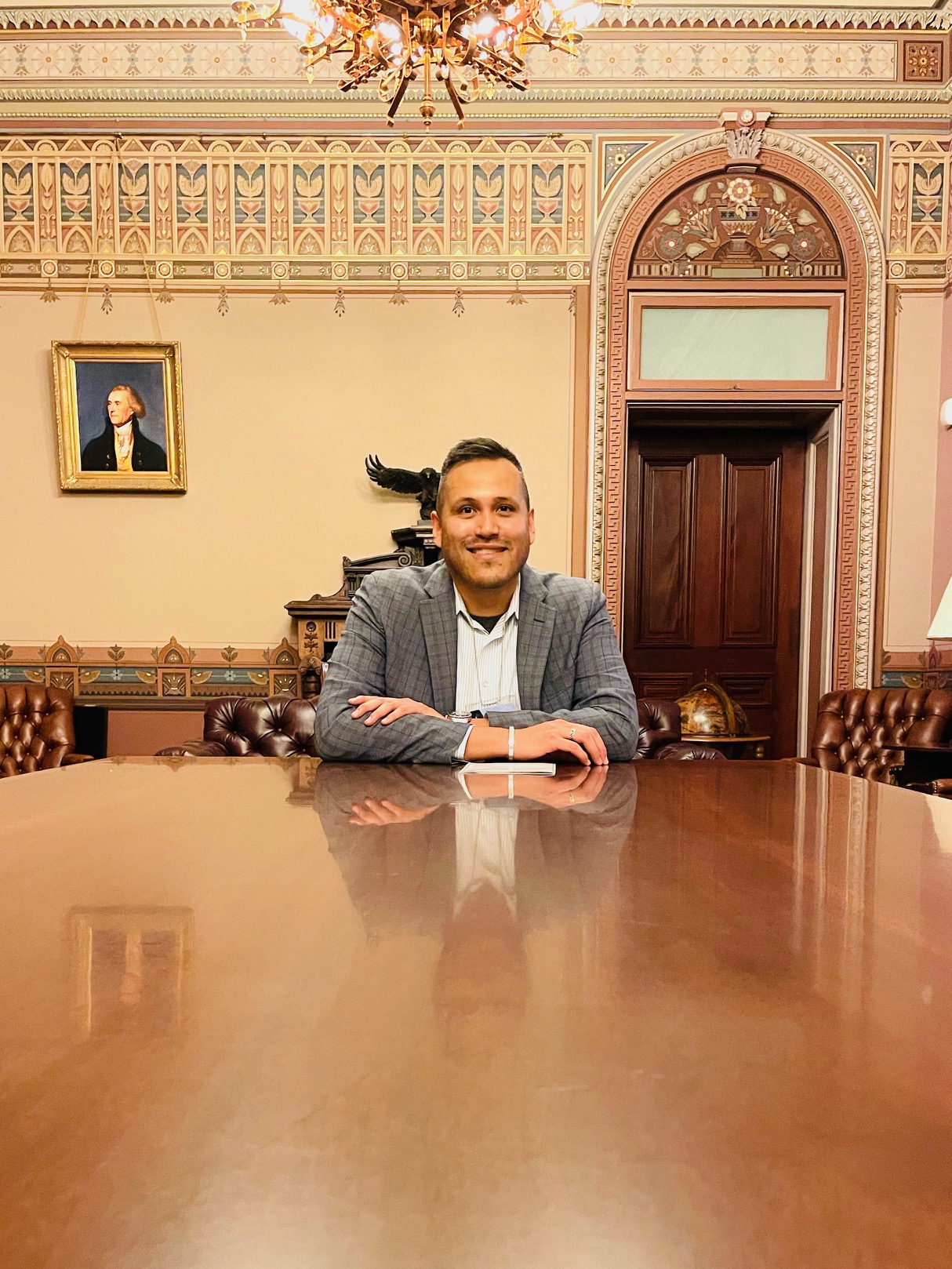 Carlos Abeyta, MBA, is currently the Department Administrator and Associate Director for Diversity, Equity and Inclusion (DEI) for the Department of Neurosurgery, at the University of New Mexico (UNM), School of Medicine (SOM). He was key member in bringing the accredited residency back to New Mexico, being the only training site for Neurosurgery in the State. Previously, he was the assistant to Mayor Timothy M. Keller and the LGBTQ+ Coordinator for the City of Albuquerque.


Salutations! I am proud to be one of the youngest Administrators across the School of Medicine and have broken barriers throughout my career, both professionally and personally.
I am from a small rural town named Alcalde (Spanish for mayor) north of Espanola, New Mexico. A sibling of four and the only sibling to graduate high school and proceed to higher education, I earned my MBA at the age of 25. One might say I am a risk taker, but I use the term adventurous! I got married at 22 to my husband, Joshua, and I look forward to celebrating our 10th anniversary in August! We have five amazing dogs; our senior chihuahuas Cupcake and Beautiful, teenage yorkie Tobii, and two golden retrievers, Goldiee and Sleepie. In our free time, we enjoy camping, scenic drives, and traveling.
FUERZAS UNIDAS JOINS MANY IN SPEAKING OUT AGAINST GUN VIOLENCE
From coast to coast, thousands of Americans showed up in orange on June 2-4, 2023, to honor survivors and build community with others working to end gun violence. Here in New Mexico, volunteers and gun violence survivors tabled at the Albuquerque Railyards Market, where there was a memory board for people who died from gun violence. On Saturday, volunteers were out spreading the word about the work of Moms Demand Action at the new International District Library. Throughout June, Moms Demand Action is sponsoring a blood drive. Gunshot wound victims require a large amount of blood.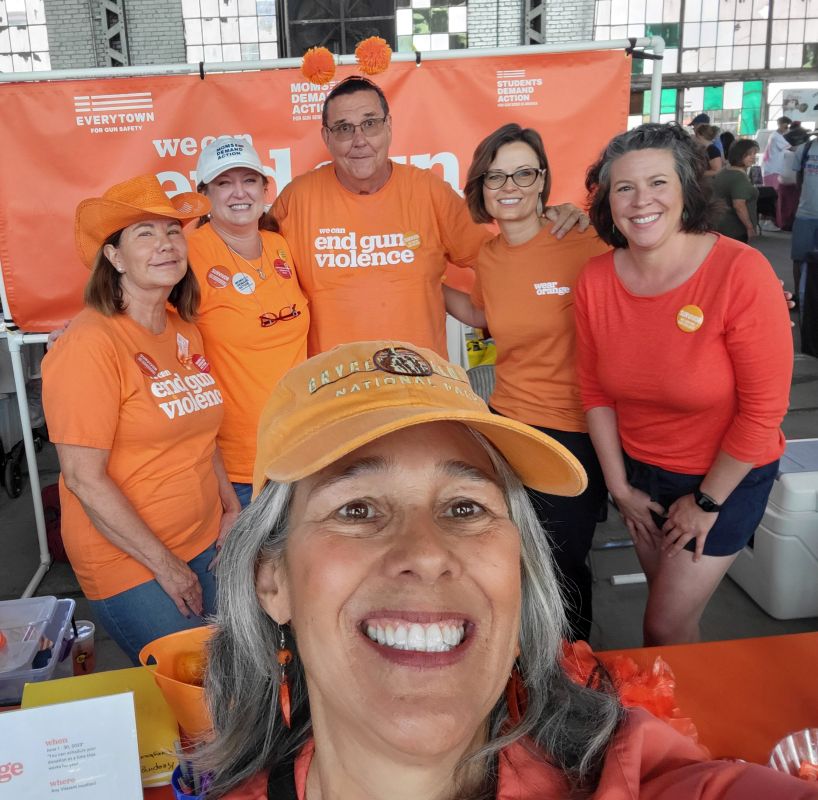 Left to Right: Regina Griego, Rana Davis, Mark Cavanaugh, Katie Sena, Rebecca Trujillo and Vicky Estrada-Bustillo front and center!
CAMPAIGNING FOR OUR HISPANO CANDIDATES CONTINUES
Fuerzas Unidas Members participated in a fund raising event Hosted by Representative Art De La Cruz and Annette Chavez De La Cruz. Unfortunately the Representative was not able to attend due to Debt Ceiling Vote in Washington D.C.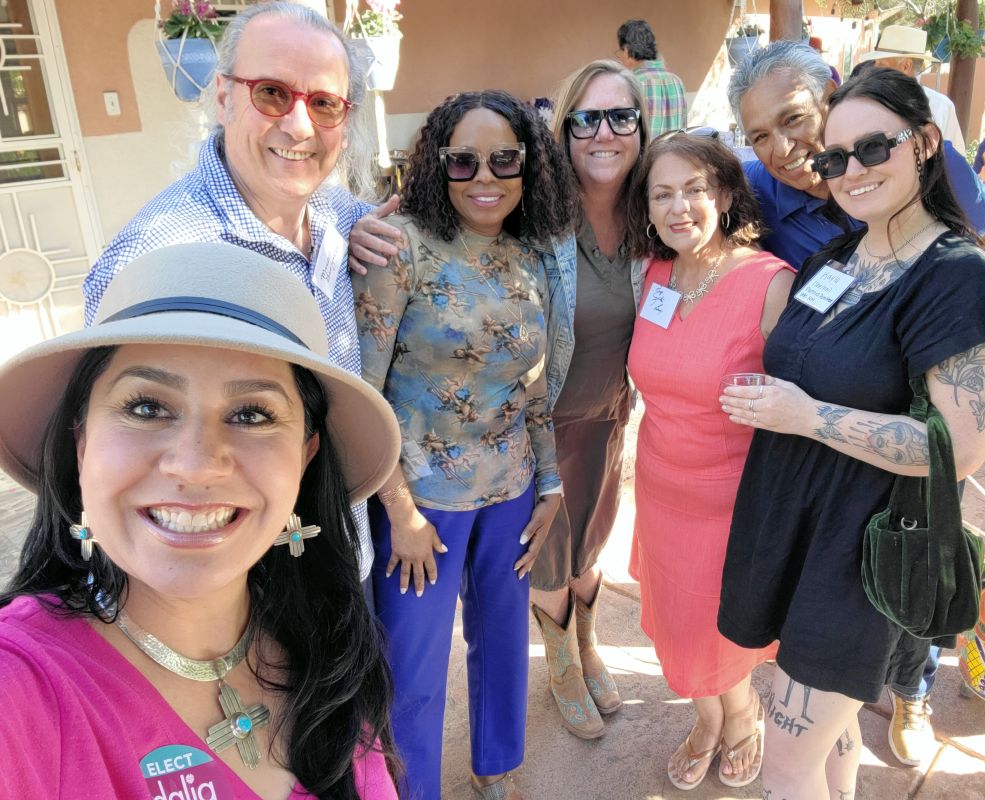 Idalia Lechuga-Tena, Marco Gonzales, Marjorie Germain, Juliana Koob, Rep. Cynthia Borrego, Rep. Art De La Cruz, Kayla Herring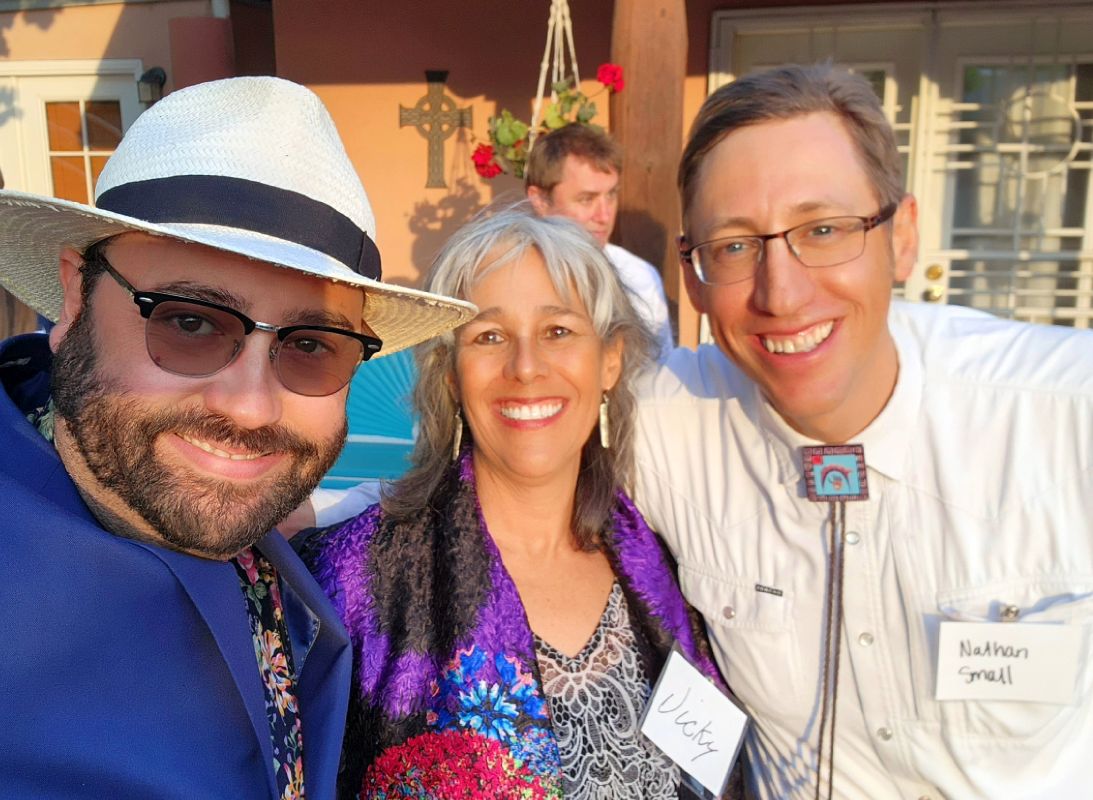 DPNM Vice Chair Manny Crespin, Vicky Estrada-Bustillo, Rep. and Chair of House Appropriations Nathan Small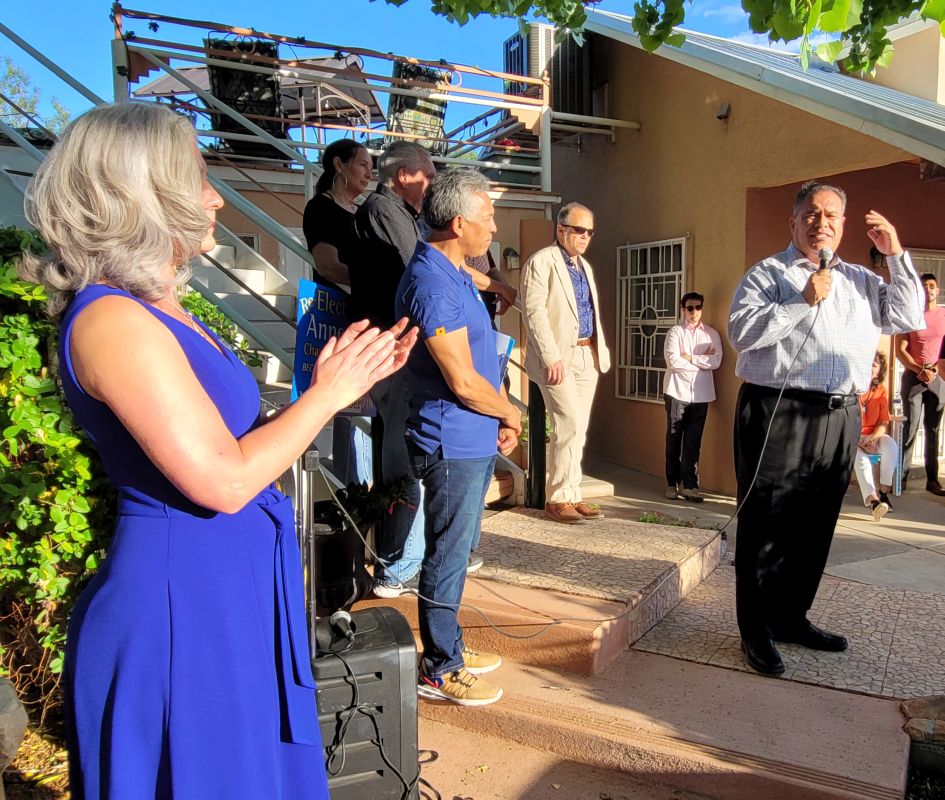 DPNM Chairwoman Jessica Velasquez, Rep. Art De La Cruz, Senator Michael Padilla
CENTRAL WEST RURAL REGION:
CAUCUSES COLLABORATE - Fuerzas Unidas Caucus Joins Valencia County Officers and the New Mexico Federation of Democratic Women
Valencia County hosted the Spring meeting of the New Mexico Federation of Democratic Women. State Senator Antoinette Sedillo Lopez and State Representative Pamelya Herndon gave a summary of bills they worked on during the legislative session. The DPNM Environmental Justice Caucus also spoke along with Audrey Dempsey, the National Federation of Democratic Women Western Region Director.
ABOVE PHOTO - Back Row: Lorraine Espinosa (President VCFDW), Annette Arvizo, , Summer Ludwig (Chairwoman DPVC), Linda Laswell. Front Row: Vicky Estrada-Bustillo, Lydia Zazueta, Dolores Otero-Padilla, Pam Cordova- (Past President, VCFDW, NMFDW), Lisa Chavez (partial)
LEFT PHOTO - Front Row: Pam Cordova - Past President VCFDW & NMFDW, Lorraine Padilla Spradling, Dolores Otero-Padilla, Lydia Zazueta, Annette Arvizo, Lorraine Espinosa (President VCFDW), Lisa Chavez (Former Chairwoment DPVC, Vice-President and VCFDW) and Lydia Piro, Executive Board Member. Back Row, Vicky Estrada-Bustillo and Summer Ludwig DPVC Chairwoman.
Happy Pride Month!
My daughter is caring, intelligent, talented, beautiful, and just at the beginning of her adult life. She holds so much promise and has much to give to the world. "The world is your oyster," I tell her, and I hope she is given time to find the pearl.
As the momma bear of a transgender daughter, I am hyper-aware of the struggles our fellow humans in the LGBTQ+ community face. They are marginalized and discriminated against in our schools, doctors' offices, restaurants, libraries, churches, and public spaces. Within that population lies an even more vulnerable group, and the current climate of hatred washing over our country explicitly directed towards transgender people makes me not only angry but disappointed, hurt and fearful.
Transgender people need our help. They account for only 1.7% of the population but bear the brunt of most of the malicious legislation being passed in America. These bills seek to deny people the chance to live authentically and truthfully. They are insidious in nature and have hidden goals. They are not about protecting children; they are about discriminating, harassing, and causing harm to transgender individuals. New Mexico is surrounded by five states that have passed anti-trans legislation. We are an island, and you can bet we will be under increasing pressure to cave to the radical conservative right-wing factions who look to outlaw or even eradicate our loved ones. Fuerzas Unidas Caucus must continue to work diligently to keep that from happening in New Mexico.
More urgently, we must be aware of the violence against transgender persons. As a mother, I live every day knowing that my daughter's life expectancy as a transgender woman is only 32 years old. She is more likely to be murdered than any other population subset in the world. As a society, we are kept unaware of much of the violence and murder of these marginalized persons because the authorities insist on 'deadnaming' victims. That means they do not use their chosen name and gender in reports; they use their birth name and assigned gender, and most often, it is not recorded as a hate crime.
According to research by the League of United Latin American Citizens (LULAC), Latino and Latina transgender and gender non-conforming people face some of the highest levels of discrimination and violence of ALL transgender people. They face multiple discriminations, and outcomes are much worse when immigration status comes into play. The report found that our transgender gente has a 3x higher unemployment rate, 7x higher instances of extreme poverty, and 4x the risk of homelessness compared to average Americans. In schools, 77% of transgender students report being harassed, 36% physically assaulted, and 13% sexually assaulted. 21% left school because of it, and 30% report attempting suicide. An even more significant concern, 23% of Latino/a transgender people report being refused medical care due to bias.
It is hard to let my strong, independent, ambitious and beloved daughter out into a world full of violence and hate every day. I can do so because I know there are good and loving people who are brave enough to speak up and fight for her. She has a strong support network. We must work together to provide protection for all transgender people. PLEASE help me protect her and others; hopefully she will make it past her 32nd birthday - thriving.
La Unión Hace la Fuerza
of the Democratic Party of New Mexico