FUERZAS UNIDAS
FULL CAUCUS MEMBERSHIP MEETING
Our Next Membership Meeting will be:
April 20th at 6:00pm via Zoom
By Vicky Estrada-Bustillo
This past month has been full of activity including the legislative session at the State level, elections at the County level of the Democratic Party, and Caucus preparation for elections of our odd-numbered year positions.
In this issue we will highlight some of the progress made by the Democratic majority legislature and where we still have some work to do. Information about our Caucus elections, along with links to our website and the self-nomination process, is included. Our Regional Happenings Section contains descriptions of events honoring two dynamic Latina activists in the racial and social justice arena, Dolores Huerta and Maria Hinojosa, as well as Fuerzas Unidas participation at multiple County Central Committee meetings, other events throughout the state and upcoming activities.
Given the full agenda for our April membership meeting involving Caucus election information and legislative update, we have moved out 2 -year strategic Action Plan presentation to May. We still look forward to sharing with you and getting you input at the May membership meeting.
We Need You!
WE ARE LOOKING FOR FZUC MEMBERS
TO FILL VACANT LEADERSHIP ROLES
If you live in the Northern, Central or Southern Metro areas
and are interested in any of these representative positions, please consider running for a leadership position
Celebrating International Women's Day with
Maria Hinojosa
By Vicky Estrada-Bustillo
Renowned Mexican-American journalist Maria Hinojosa was honored during an Albuquerque Hispanic Cultural Center reception for International Women's Day on March 8. In addition to inspiring remarks, Maria graciously signed copies of her new book, Once I Was You: A Memoir of Love and Hate in a Torn America.


Maria has dedicated her career to reporting on social injustice issues, particularly in the Hispanic and Latino communities. Many of us grew up hearing Maria on the radio program "Latino U.S.A.", which she helped launch in 1992. Over 20 years later, she both hosts and executive produces the program.


During her speech, Maria shared stories about her many years working for CNN's New York Bureau and being a senior correspondent for - and hosting her own show on - PBS. She also talked about the terrific books that she has written. Maria has won numerous awards, including a Pulitzer Prize in audio reporting.


Maria reminded attendees to create their own opportunities where none exist. She challenged us to do what must be done: talk with community members, share our stories, and continue fighting for opportunities for ourselves and future generations. For example, in response to barriers she encountered when reporting injustices experienced by Latino communities, she created the Futuro Media Group in 2010 to define the stories reported. Also, Maria was the FIRST LATINA executive producer and anchor focused on celebrating local communities and cultural diversity on both radio ("Latino U.S.A.") and TV ("America by the Numbers with Maria Hinojosa").


These days, Maria works along the border, reporting on injustices associated with immigration. She ended her speech by saying, "We must lead with humanity." She also noted that people coming to the U.S. are NOT "illegals." They are simply people trying to escape very difficult or dangerous situations and deserve to be treated humanely. Orale Maria!!!
Bernalillo County Central Committee Meeting
During the CCC meeting, BC Dems met newly elected leadership, heard from party leaders, city leaders, and recognized outgoing Bernalillo County Chair Flora Lucero.
The newly elected Democratic Party of Bernalillo County Chair is Fuerzas Unidas member, Marisol Enriquez!
Vicky Estrada-Bustillo and Felice Garcia chat with Stephanie Garcia-Richards, the first Latina educator to serve as NM Commissioner of Public Lands.


Fuerzas Unidas Member Social
FZUC had a great time coming together for a bit of fun after the CCC meeting in Albuquerque. Familiar faces and new new friends stopped by and a great time was had by all!


Left to right: Dimi DeSantis, Outgoing DPBC Chair Flora Lucero, Ben Salazar (Field Rep for Teresa Leger-Fernandez), Josie Dominguez (APS School Board Member) and current FZUC Chair Vicky Estrada-Bustillo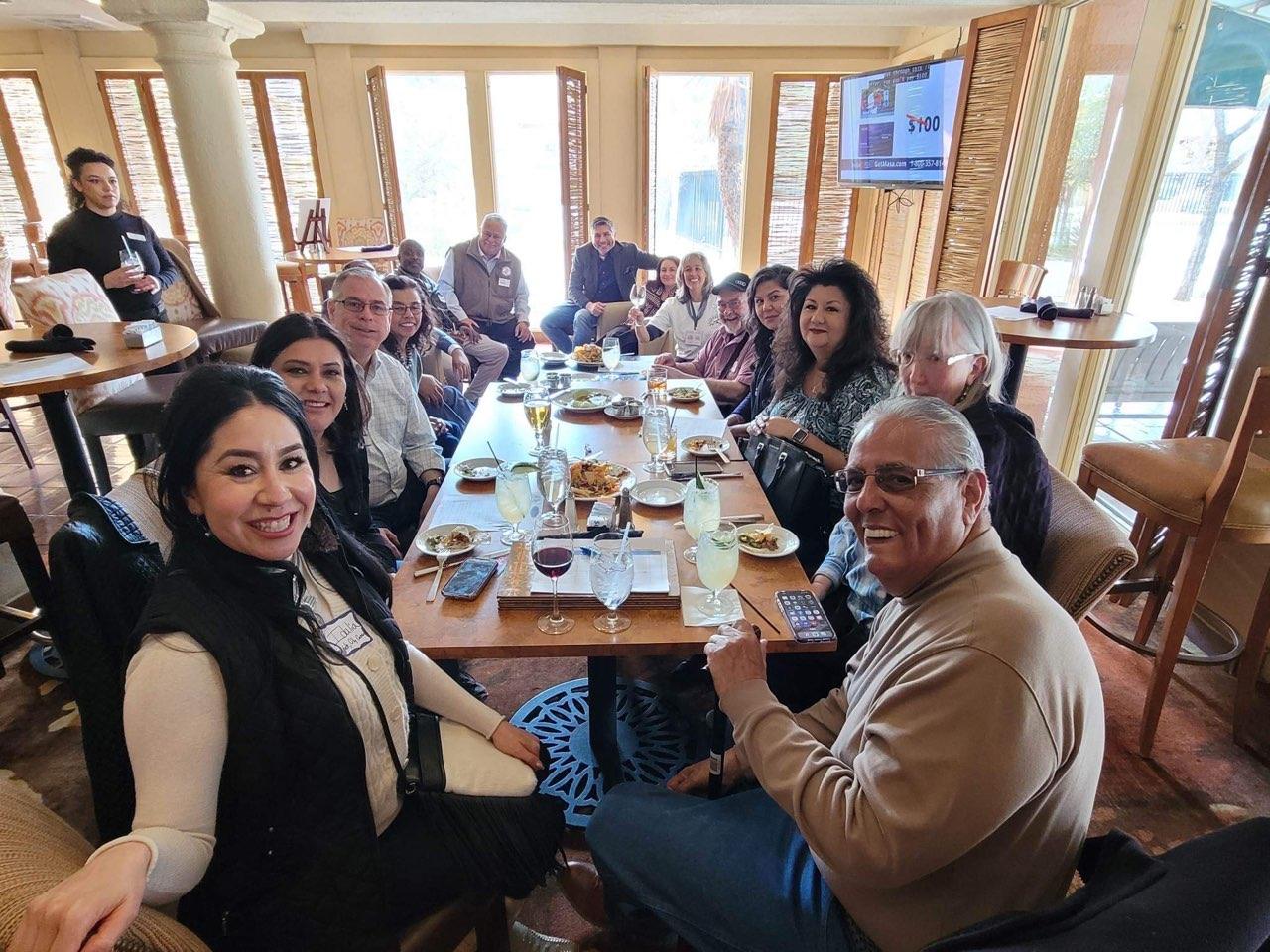 On the left, front to back: Former NM House Representative Idalia Lechuga-Tena , NM House Representative Yanira Gurrola, Senator Daniel Ivey-Soto, Felice Garcia (FZUC Leadership), Senator Harold Pope Jr. (hidden), Mr. Powdrell, Donald Gallegos
On the right, front to back: Ben Salazar, Unknown, Christina Serna (FZUC Secretary), Lori Remillard, Ivan Pfeifer (Tech Support DPBC), Fuerzas Unidas Chair Vicky Estrada-Bustillo, Attorney Iris Calderon, Bernalillo County Assesor Damian Lara
Doñ
a Ana County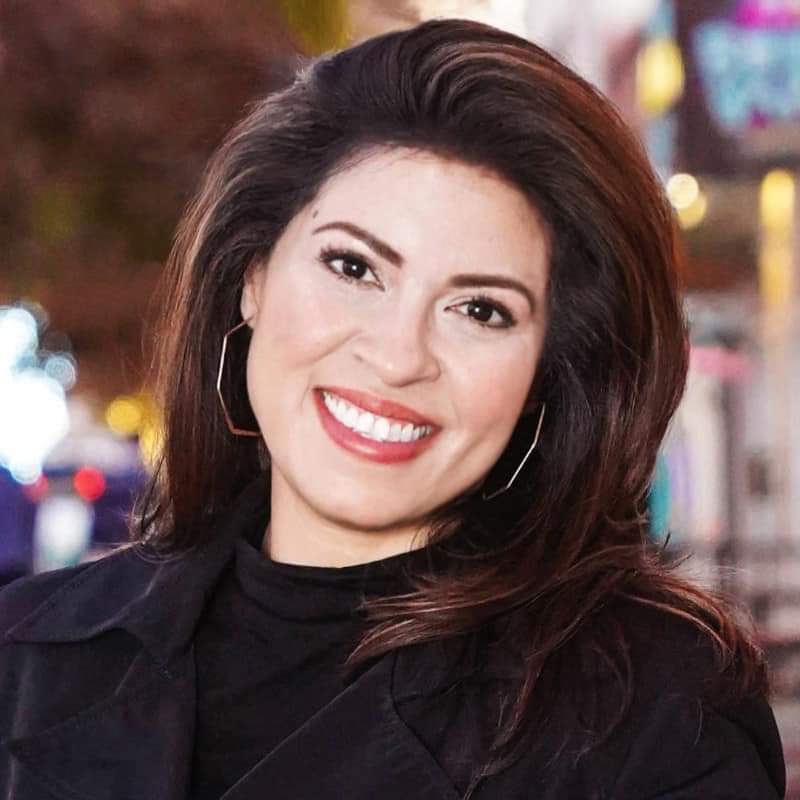 Newly elected Democratic Party Chair of Doña

Ana County, Fuerzas Unidas member, Estela Hernandez!
Honoring Dolores Huerta
93-year-old New Mexico native and labor activist Dolores Huerta continues her fight for hardworking people and reminds us to volunteer and to "Take our protest and march to the ballot box."
April 10, her birthday, has been named "Dolores Huerta Day" in New Mexico.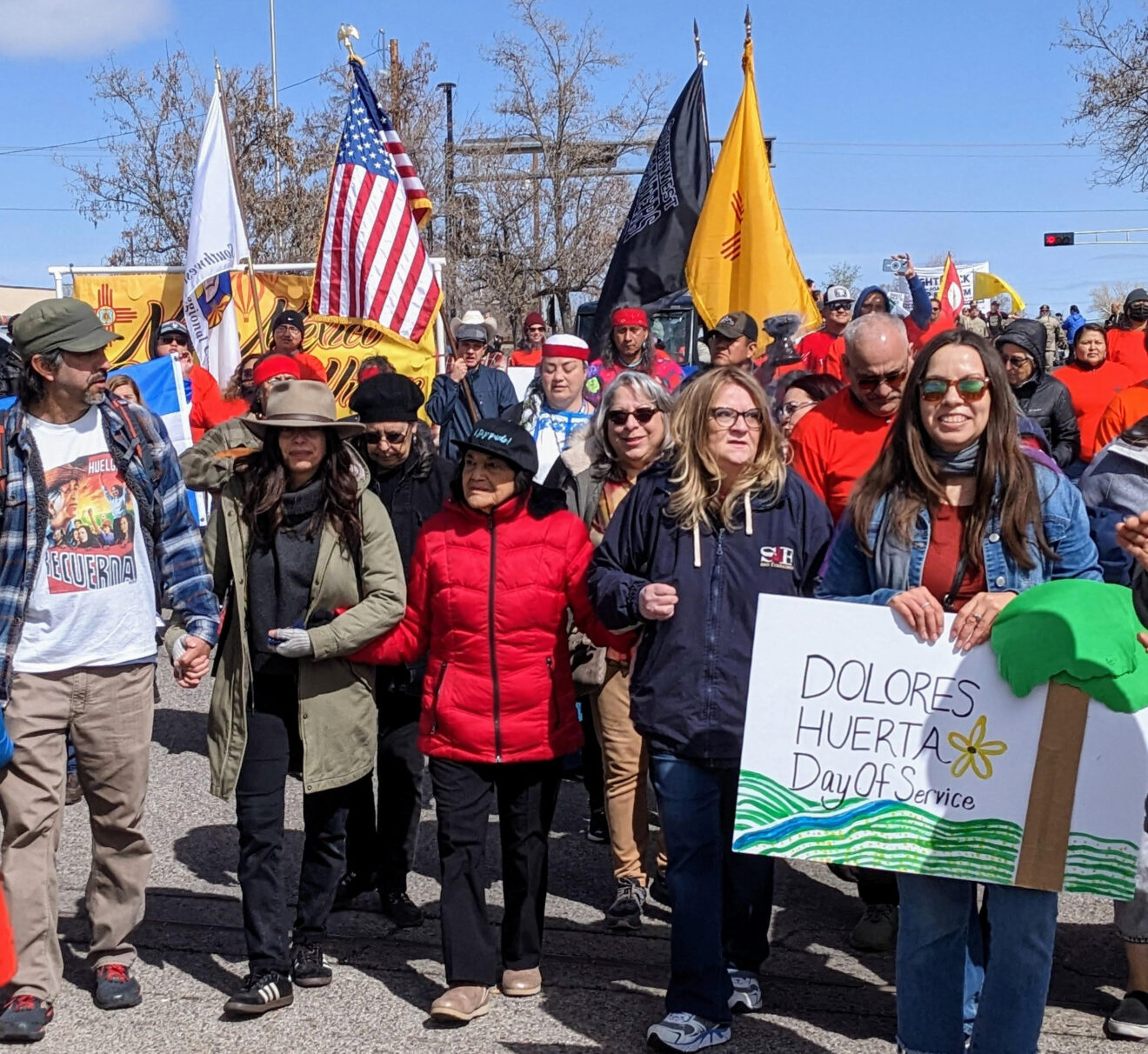 Luna County Democratic Party CCC Elections!
Ray Trejo (County Comissioner District 1), Pete Buttigieg (US Secretary of Transportation), and
Gabe Vasquez (NM Congressman CD2)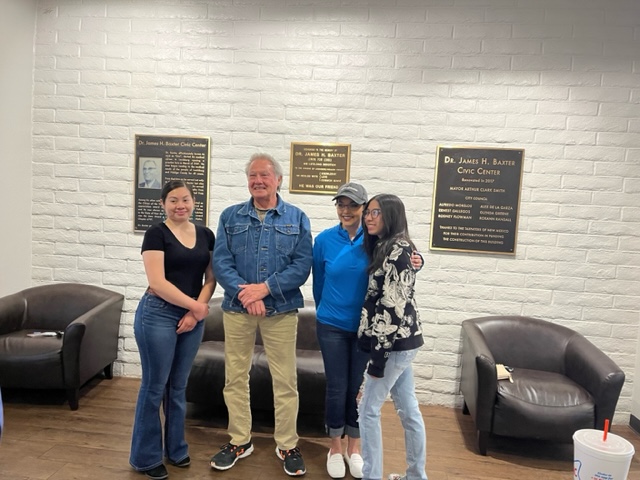 Newly elected Hidalgo Democratic Party Chair Larry Martinez and Vice Chair Maya Olivas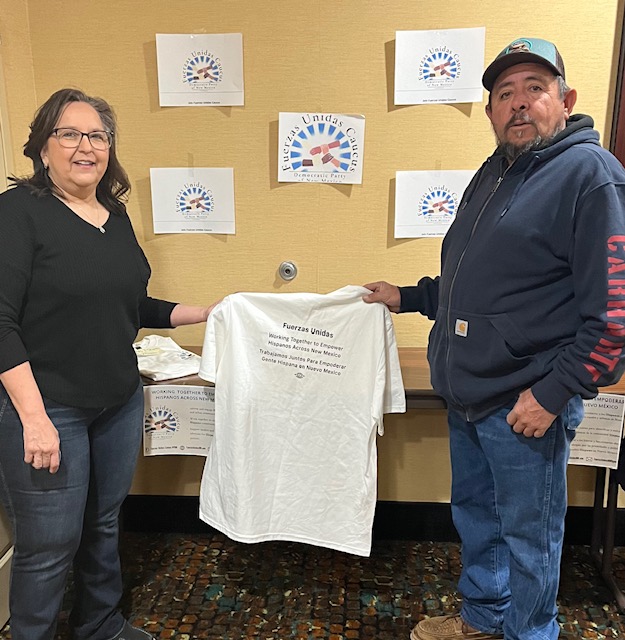 Christy Trejo-Montes and Jerry Montes
2023 Legislative Review
With a democratic trifecta in New Mexico and new legislative leadership, cautious optimism was the mood at the Roundhouse for the 2023 session. The legislature passed over 200 bills sending them to the Governor to sign by Friday, April 7. Education, healthcare and women's reproductive rights, climate change, voting rights, and infrastructure improvements are priority issues of caucus members. We made progress in some of those areas and were disappointed by a lack of resolve in others.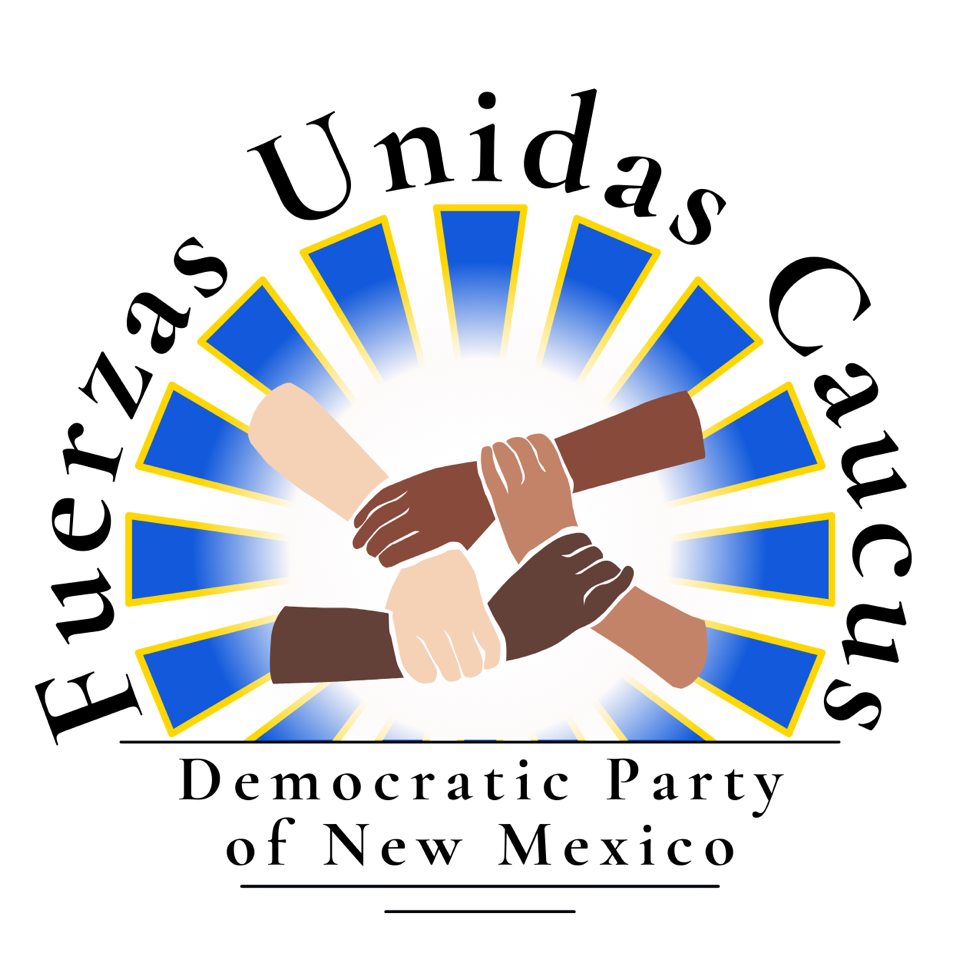 La Unión Hace la Fuerza
of the Democratic Party of New Mexico