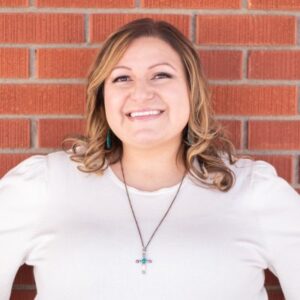 A native New Mexican, Anita was born in Las Vegas, NM to both the Lopez Family of Villanueva, NM and the Gallegos Family of Las Vegas, NM. She is the proud mother to Curtis Gonzales. A middle child, Anita has lived throughout New Mexico — moving between Las Vegas and Albuquerque as a child. After completing the majority of her degree at Texas A&M University, she returned home to Las Vegas to complete her bachelor's and master's degrees at New Mexico Highlands University.
Anita has worked at New Mexico Mathematics, Engineering, Science Achievement (NM MESA), Inc for over 19 years and is the current Deputy Director. NM MESA is a statewide pre-college program which empowers and motivates New Mexico's culturally diverse students with science, technology, engineering, and math (STEM) enrichment. Besides STEM Enrichment, NM MESA provides teacher training and support, leadership development, community support, secondary education preparation, and works to develop the future workforce of STEM leaders. Her work with NM MESA has given her a diverse educational background working with STEM leaders, students, teachers, administrators, public school, and higher education institutions. It has also allowed her to network with partners, industry leaders, and contacts from across the state.
Some highlights of Anita's community involvement are as follows: Board Member of the Las Vegas Rotary Club; State ExCom and Secretary for the Rio Grande Sierra Club; Board Member for the Las Vegas Literary Council; Northeastern New Mexico Rural Representative for the Fuerzas Unidas Caucus; Member of the San Miguel County Federation of Democratic Women; Commissioner for the Acequia de los Madres Vigiles and the Grzelachowski Ditch; United World College Getaway Family; Chair of the MESA USA National Engineering Design Committee; is a 2021 Cohort Graduate of the Emerge Leadership Training Program; and is a Team Parent for the Meadow City Havoc.